Posted on
February 23, 2016
in
Hong Kong Airlines starts flights to Kuching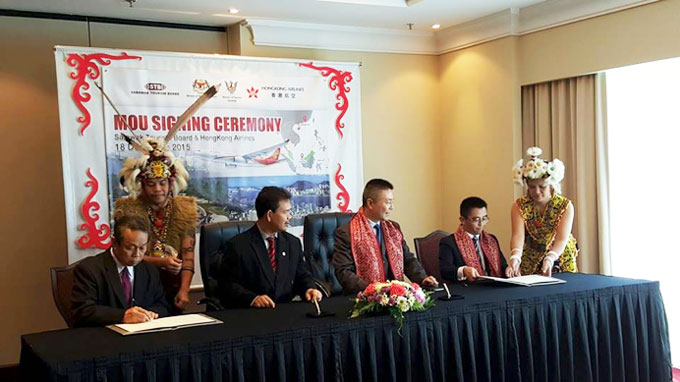 Strategic business and tourism links with Hong Kong and China will get a major boost in April, with the first direct flights between Kuching and Hong Kong.
Hong Kong Airlines will operate the twice-weekly service, on Wednesdays and Saturdays, using its modern fleet of 174-seat Airbus A320s.
Until now, the only scheduled international flights into Kuching have been from Singapore.
Speaking at the signing of a Memorandum of Understanding between Hong Kong Airlines and the Sarawak Tourism Board (STB) in December, Sarawak Tourism Minister Datuk Amar Abang Johari Tun Openg said the non-stop service from Hong Kong would increase both business and tourist travel from China.
"With these direct flights, we are confident that we will be able to bring in more visitors to the state," he said.
Tourism in Sarawak currently attracts 5 million visitors a year and generates revenues of more than RM10 billion.
The Tourism Minister said the agreement with Hong Kong Airlines committed STB to providing substantial incentives and a comprehensive marketing campaign to ensure the route's success and sustainability.
Other incentives will be provided by Tourism Malaysia and Malaysia Airports Holdings Bhd and the marketing programme will also involve the Sarawak Tourist Federation and Matta (Malaysian Association of Tour and Travel Agents) members in Sarawak.
Promotional roadshows and meetings with travel agents in Hong Kong and cities across Southern China will raise awareness of Sarawak. They will be backed up with online activity and the offer of familiarisation trips to the state for potential investors, opinion formers and travel agency staff.
Tourism Malaysia's offices in Hong Kong and Guangzhou will also be busy marketing Sarawak's attractions and opportunities and emphasising the convenience of the direct flight connection.
As well as attracting growing numbers of inbound travellers from Hong Kong and China, STB will be making sure travel agents in Sarawak sell the benefits of closer ties with Hong Kong and China to local people and businesses, with a view to stimulating outbound traffic. Agents operating in Pontianak will also be encouraged to build awareness of the route among potential passengers from West Kalimantan.
The Memorandum of Understanding was signed on 18 December by STB's chief executive officer, Datuk Ik Pahon Joyik, and Hong Kong Airlines strategy and planning commercial department manager, Andre Zhang. Among the witnesses at the ceremony was the Chinese Consul General in Kuching, Liu Quan.
- RECODA
Related posts